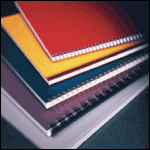 When it comes to business communications services, Central Graphics has got it covered. We can provide virtually any product or service imaginable to communicate with your clients, employees, stockholders, or vendors.
We're experts at corporate identity pieces. But that's only the beginning. To learn more about the many products and services we offer, please contact one of our representatives.
We are conveniently located at the Allen Center Garage in downtown Houston.
Products
Services
We can relate with the kind of stress that comes with coordinating a meeting or convention. Folders, flyers, table tents, notebooks, comment cards, transparencies, name tags -- the list seems endless. Our highly-trained convention staff will work ahead of time to produce materials and deliver them to your hotel when you arrive.